Info
title
Source:

WCO/Namibia Customs and Excise
21.04.2020
Amidst the pandemic (COVID-19) outbreak the Ministry of Finance is hereby sharing with the
WCO regarding measures undertaken to deal with the global pandemic.
Regulatory measures under the State of Emergency
Namibia Customs and Excise (NCE) adopted and implemented the Regulation of the State
of Emergency - COVID-19 No. 9 of 28 March 2020 signed by His Excellency Dr. Hage G.
Geingob the President of the Republic of Namibia, and
Guidelines to operationalize the Regulation of the State of Emergency have been
developed to facilitate the free movement of essential and transit goods through the
appointed routes.
NCE has also implemented SADC Guidelines on Harmonisation and Facilitation of Cross
Border Transport Operations across the Region during the COVID-19 Pandemic.
Regulations implemented by Customs in line with national measures:
Adherence to the restriction on movement of persons as per the Regulation of the State of
Emergency- COVID-19 No. 9 of 28 March 2020.
Limited access to offices, only essential and critical services are attended to.
List of border checkpoints that are operational and operating times: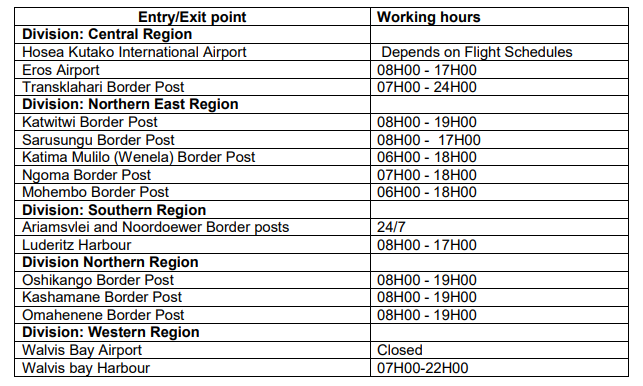 Border checkpoints that are closed:
Hosea Kutako International Airport is open for diverted flights to deliver emergency supplies
intended for COVID-19 and evacuation of foreign nationals.
All borders are closed for passengers, except commercial cargo are permissible.
Oranjemund/Alexander Bay, Klein Manasse/ Rietfontein Border Posts and Walvis Bay
Airport are completely closed, re-opening not known yet.
Operational modalities during the COVID-19 period:
Some staff members performing non-essential services have been scaled down, and
allowed to operate from home, this is to minimise physical contacts.
At inland offices, a sizable number of three – four (3-4) clients seeking Customs services
are allowed in the office at a given time after sanitization, and mandatory wearing protective
masks and keeping to one (1) meter social distance between individuals.
At the borders, all commercial cargo carrying trucks must present certificate issued by the
Ministry of Industrialization and Trade permitting them to operate during the lockdown
period.
At Hosea Kutako International Airport, the Air Traffic Controllers communicate with Namibia
Airport Company (NAC) about any arrivals/departures and in return NAC communicates
with all relevant stakeholders to report on duty one hour before landing/departure of any
flight.
Stand-by working schedules were drawn and effected the 28 March 2020, with minimal
number of officers (three and four officers) on duty per time/shift to avoid overcrowdings.
Screening of accompanied baggage done jointly with Namibian Police using sniffer dogs as
baggage are not allowed to enter the terminal where Customs and Excise scanner is
situated.
Processing of COVID-19 emergency supplies:
Emergency supplies are given priority as per internal notice letter dated 27 March 2020,
signed by the Acting Commissioner: Customs and Excise for the Exemption of Customs
Duties and Rapid Release of Medical Equipment and Clinical Supplies by Customs and
Excise, Schedule 4, rebate Item 412.11 of the Customs and Excise Act, 1998 (Act No. 20
of 1998).
At Airports, emergency supplies meant for COVID-19 are pre-released in consultation with
relevant stakeholders such as Namibia Medicine Regulatory Council (NMRC), Namibia
Standards Institute (NSI), National Emergency Response and Ground Handlers to curb on
importation of fake medical supplies.
Joint clearance efforts are being applied with Namibian Police, Namibia Defence Force
(joint physical examinations and river patrols), Health (screening and sanitary measures to
drivers), Agriculture (import permits) and Immigration (history of travel and recommendation
for quarantine of travellers) and Post Officials for postal packages.
GUIDELINES & REGULATIONS FOR 21-DAY LOCKDOWN OF KHOMAS AND ERONGO REGIONS INCLUDING OKAHANDJA AND REHOBOTH
Note
| | |
| --- | --- |
| icon | false |
| title | Remarks from the International Road Transport Union |
Forthcoming