Source: DEPARTMENT OF HEALTH AND HUMAN SERVICES CENTERS FOR DISEASE CONTROL AND PREVENTION (CDC)
20.09.2021
Order: Requirement for Proof of Negative COVID-19 Test Result or Recovery from COVID-19 for All Airline Passengers Arriving into the United States
The Centers for Disease Control and Prevention (CDC) within the Department of Health and Human Services (HHS) issued an Order on January 12, 2021 requiring proof of a negative COVID-19 test or documentation of having recovered from COVID-19 for all air passengers arriving from a foreign country to the US. On January 25, 2021, CDC posted a revision to this order. This Order is effective as of January 26, 2021 and was published in the Federal Registerexternal icon on January 28, 2021.
To view the order, click here pdf icon[PDF – 9 pages].
To see the passenger attestation, visit the Attestation pdf icon[PDF – 3 pages].
Fillable Attestation:
For frequently asked questions, visit the FAQs.
Airline Checklist: How to Verify Negative Qualifying Test Results or Documentation of Recovery from COVID-19 for CDC's Order pdf icon[PDF – 2 pages]
COVID-19 International Travel Advisories
COVID-19 international travel rules change frequently. Check with the Department of State for travel advisories and get recommendations from the CDC before making any international travel plans to or from the U.S.
All air passengers age two and older traveling to the U.S. must be tested for COVID-19 no more than three days before their flight. Travels must show proof of their negative results before boarding their plane. This rule includes U.S. citizens and everyone who has already been vaccinated.
____________________________________________________________________________________-
10.06.2021
Travel
Vaccinated and Traveling?
See CDC's latest recommendations for travel in the U.S.
International Travel During COVID-19

Updated June 10, 2021

Print
On This Page
Do not travel internationally until you are fully vaccinated. If you are not fully vaccinated and must travel, follow CDC's international travel recommendations for unvaccinated people.
Fully vaccinated travelers are less likely to get and spread COVID-19. However, international travel poses additional risks, and even fully vaccinated travelers might be at increased risk for getting and possibly spreading some COVID-19 variants.
The COVID-19 situation, including the spread of new or concerning variants, differs from country to country. All travelers need to pay close attention to the conditions at their destination before traveling.
CDC will update these recommendations as more people get vaccinated, as rates of COVID-19 change, and as additional scientific evidence becomes available.
Recommendations For Fully Vaccinated People
Have You Been Fully Vaccinated?
People are considered fully vaccinated*:
2 weeks after their second dose in a 2-dose series, such as the Pfizer or Moderna vaccines, or
2 weeks after a single-dose vaccine, such as Johnson & Johnson's Janssen vaccine
If you don't meet these requirements, you are NOT fully vaccinated. Keep taking all precautions until you are fully vaccinated.
If you have a condition or are taking medication that weakens your immune system, you may NOT be fully protected even if you are fully vaccinated. Talk to your healthcare provider. Even after vaccination, you may need to continue taking all precautions.
Recommendations For Unvaccinated People
If you are not fully vaccinated and must travel, take the following steps to protect yourself and others from COVID-19:
Do NOT travel if you were exposed to COVID-19, you are sick, you test positive for COVID-19, or you are waiting for results of a COVID-19 test. Learn when it is safe for you to travel. Don't travel with someone who is sick.
International Travel Recommendations Quick Reference
alternative text for web accessible infographic
Check Travel Restrictions
If traveling internationally, check with your destination's Office of Foreign Affairs or Ministry of Health or the US Department of State, Bureau of Consular Affairs, Country Information pageexternal icon for details about entry requirements and restrictions for arriving travelers. Follow all entry requirements for your destination and provide any required or requested health information. If you do not follow your destination's requirements, you may be denied entry and required to return to the United States.
If traveling by air, check if your airline requires any health information, testing, or other documents. If traveling internationally, you must get a COVID-19 test no more than 3 days before you return by air to the United States. You are required to show a negative COVID-19 test result or documentation of recovery from COVID-19 before boarding a flight to the United States.
Information for people who recently recovered from COVID-19
If you recovered from a documented COVID-19 infection within the last 3 months, follow all requirements and recommendations for fully vaccinated travelers except you do NOT need to get a test 3-5 days after travel unless you are symptomatic. People can continue to test positive for up to 3 months after diagnosis and not be infectious to others.
* This guidance applies to COVID-19 vaccines currently authorized for emergency use by the Food and Drug Administration: Pfizer-BioNTech, Moderna, and Johnson and Johnson (J&J)/Janssen COVID-19 vaccines. This guidance can also be applied to COVID-19 vaccines that have been authorized for emergency use by the World Health Organization (e.g. AstraZeneca/Oxford). See WHO's websiteexternal icon for more information about WHO-authorized COVID-19 vaccines.
Further information: https://www.cdc.gov/coronavirus/2019-ncov/travelers/international-travel-during-covid19.html
The White House
25.01.2021
Proclamation on the Suspension of Entry as Immigrants and Non-Immigrants of Certain Additional Persons Who Pose a Risk of Transmitting Coronavirus Disease
Extract:
Section 1.  Suspension and Limitation on Entry.  (a)  The entry into the United States, as immigrants or nonimmigrants, of noncitizens who were physically present within the Schengen Area, the United Kingdom (excluding overseas territories outside of Europe), the Republic of Ireland, and the Federative Republic of Brazil during the 14-day period preceding their entry or attempted entry into the United States, is hereby suspended and limited subject to section 2 of this proclamation.
(b)  The entry into the United States, as immigrants or nonimmigrants, of noncitizens who were physically present within the Republic of South Africa during the 14-day period preceding their entry or attempted entry into the United States, is hereby suspended and limited subject to section 2 of this proclamation.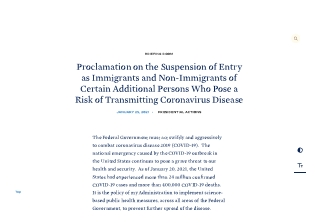 https://www.whitehouse.gov/briefing-room/presidential-actions/2021/01/25/proclamation-on-the-suspension-of-entry-as-immigrants-and-non-immigrants-of-certain-additional-persons-who-pose-a-risk-of-transmitting-coronavirus-disease/
Source: WCO/U.S. Customs and Border Protection
14.09.2020
Several Presidential proclamations established restrictions on the entry of certain travelers into the United States in an effort to help slow the spread of coronavirus disease 2019 (COVID-19).
plane solid icon
With specific exceptions, foreign nationals who have been in any of the following countries during the past 14 days may not enter the United States. For a full list of exceptions, please refer to the relevant proclamations in the links below.
European Schengen area (Austria, Belgium, Czech Republic, Denmark, Estonia, Finland, France, Germany, Greece, Hungary, Iceland, Italy, Latvia, Liechtenstein, Lithuania, Luxembourg, Malta, Netherlands, Norway, Poland, Portugal, Slovakia, Slovenia, Spain, Sweden, Switzerland, Monaco, San Marino, Vatican City)
United Kingdom

 

(England, Scotland, Wales, Northern Ireland)
As further provided in each proclamation, citizens and lawful permanent residents of the United States, certain family members, and other individuals who meet specified exceptionsexternal icon, who have been in one of the countries listed above in the past 14 days will be allowed to enter the United States. More information about what to do after arriving to the United States is available on CDC's After You Travel webpage.
Source: https://www.cdc.gov/coronavirus/2019-ncov/travelers/from-other-countries.html#print
24.03.2020
Legislative Powers (i.e. on matters such as imposed quarantine):

The Centers for Disease Control (CDC) has the relevant authorities for the COVID-19 response.
See Title 42, United States Code (U.S.C.). The authority for the presidential proclamations is 8
U.S.C. § 1182(f). The authorities for flight funneling are 19 U.S.C. 1433(c), 19 Code of Federal
Regulations (CFR) 122.32, 49 U.S.C. 114, and 49 CFR 1544.305 and 1546.105. The authorities
for "essential travel" are 19 U.S.C. 1318(b)(1)(C) and (b)(2), and 42 U.S.C.

Arrival Restrictions and Quarantine Arrangements:

Please see the Presidential Proclamation (https://www.whitehouse.gov/presidentialactions/proclamation-suspension-entry-immigrants-nonimmigrants-certain-additional-personspose-risk-transmitting-coronavirus/) and information on arrival restrictions at the DHS website
(https://www.dhs.gov/publication/notices-arrival-restrictions-coronavirus).
The CDC is working with state and local public health partners to implement after-travel health
precautions. Depending on a person's travel history, that person could be asked to stay home
for a period of 14 days from the time the person left an area with widespread or ongoing
community spread.

Information on travellers returning from high-risk countries can be found on the CDC website
(https://www.cdc.gov/coronavirus/2019-ncov/travelers/after-travel-precautions.html).

In Country Visa Issues:
Inquiries received from non-immigrant travellers in-country whose visas are nearing expiration
are referred to U.S. Citizenship and Immigration Services.

Public Health Advice:
The CDC provides official public health advice on COVID-19. Information is available on the
CDC website (https://www.cdc.gov/coronavirus/2019-ncov/about/index.html).

Industry Engagement:
CBP continues to engage with CDC and Industry Stakeholders in order to continue the flow of
legitimate trade and travel into and out of the United States.

Planning:
CBP has national pandemic plans and continuity of operations plans in place. CBP has
appropriate PPE at all ports, stations, air branches, and at all operational locations globally.

CBP has a Safety and Occupational Health Specialist located in every Field Office and Sector to
assist operational components complete the mission of CBP while ensuring that CBP
employees remain safe. CBP has activated its Emergency Operations Center to assist in the
execution of the CBP response to the COVID-19 outbreak. This 24/7 activity integrates
representatives from all offices to manage emergency response assets and coordinate
information and resources.

For the most up to date information, visit the DHS website (https://www.dhs.gov/coronavirus)
and CBP homepage (https://www.cbp.gov/).